Travel Trade E-newsletter
Visit Manchester sends out a quarterly e-newsletter specifically for the travel trade. In it you'll find out the latest news on what's happening in one of the most exciting cities in Britain, including updates on hotels, attractions and venues, events taking place throughout the year and dates of where you can meet up with the Marketing Manchester team. Sign up here.
Itineraries
Whatever your client is looking to do we have ideas and suggestions for itineraries that are sure to come in useful. These sample itineraries cover everything from sports or shopping, to industrial heritage or arts and culture. There are even ideas if your client has just half a day in the city and wants to see as much as possible. Please contact traveltrade@marketingmanchester.com
Useful contacts
With over 350 members in partnership, Marketing Manchester can help with contacts for hotels, attractions, restaurants, transport providers and more. In addition, we work closely with UK ground handlers to ensure their product knowledge of Manchester is up-to-date, so they are able to assist you with your client's requests. A full list of these operators can be provided upon request. Please email us at traveltrade@visitmanchester.com for more information.
Virtual Fam Trip Film
To give you an insight into this fabulous destination, watch our virtual fam trip film, hosted by local Blue Badge Guide Jonathan Schofield.
Manchester Travel Trade
The Manchester Travel Trade Guide is available both online and as a hard copy.  The guide is a specifically designed to make it as easy as possible to find the information you need in order to include Manchester in your itineraries and programmes.  It offers an overview of what Manchester has to offer including sightseeing, activities, tours, events and restaurants to sample itineraries and bookable, commissionable products.  Order your copy by emailing traveltrade@marketingmanchester.com or view online here.
Images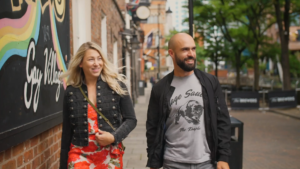 You may wish to use some images to promote Manchester to your clients or for your collateral.  You can request access to copyright free images from our asset library, register here.